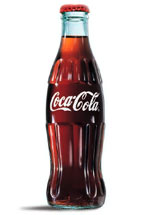 This week one of my clients called me inquiring as to my position regarding Coke-Cola consumption. He told me he drinks five per day! Soda pop consumption IS the real thing regarding massive empty calories and sugar consumption. Before you realize it has happened, you mainline 12-24 teaspoons of sugar into your system.
Another
blogger
paints a nice portrait of timeline 0-+60 minutes following soda pop consumption.
The sooner you treat food or drink like a drug, the faster your health will improve.